THE COLOR BLIND TOTAL MASS OF YOUR LIFE
Colour Blindness Can Present Many Challenges For The Colour-blind In Daily Life, Which Most People Who Can See Normally Are Not Aware Of.
What is the difference after wearing the contacts?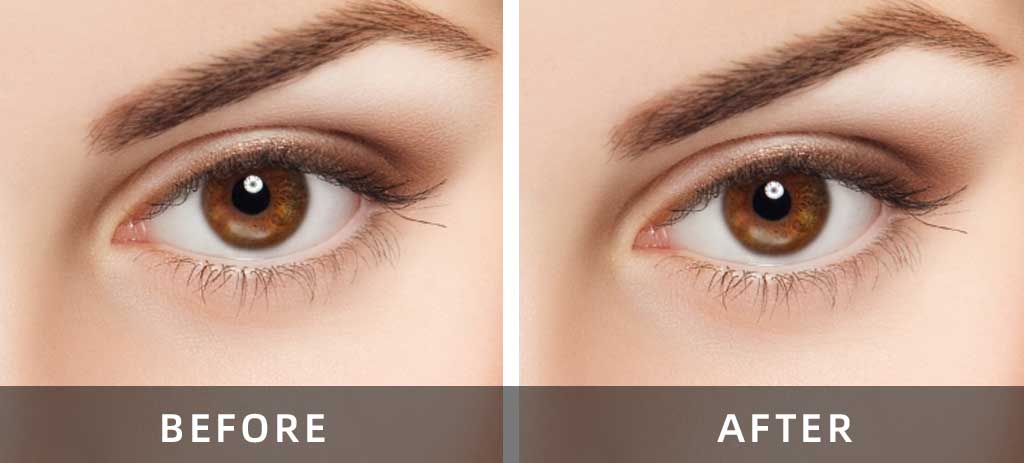 WHAT TYPES OF COLORBLIND WILL WORK?
⭐️Deuteranomaly (Weak Green)
⭐️Deuteranopia (Green Absence)
⭐️Protanomaly (Weak Red)
⭐️Protanopia (Red Absence)
The contacts are the third generation of colored contact lenses which made by doctors and designed specifically for red or green colorblindness, so they're comfortable and easy to use.
Don't require any special care, either—just clean them as you would your regular contact lenses. And if you're worried about getting them wet or dirty? Don't be! They made from soft silicone hydrogel material that won't break down if exposed to water or dust (or anything else).
Red-green colorblindness is the most common form of colorblindness in men, affecting 7 percent of all men. It's rare in women, though, affecting only 0.4 percent of all women.
There are four types of red-green colorblindness: 
Deuteranomaly (Weak Green),Deuteranopia (Green Absence),Protanomaly (Weak Red) and Protanopia (Red Absence)
Colorkinds contact lens is suitable for the people with red color blindness, green color blindness, and red-green color blindness. The cure rate of these kinds of color blindness is as high as 97%, bringing true natural color freshness to its users.
WANT TO IMPROVE YOUR RESULTS ON THE ISHIHARA TEST?
Check out our video about testing for colorblindness by wearing colorblind contacts.If you get an improvement,the glasses/contact lenses are going to work for you.
QUESTIONS?
Questions and Answers:
CHECK THE LIST BEFORE ORDERING
1. It is essential to be properly tested by a certified ophthalmologist to diagnose red-green color blindness/color weakness or tested by covisn online test program before purchase.
2. It's important that you have the right delivery information so your package arrives safely.
WHAT ARE PEOPLE SAYING?
THEY LOVE IT!
Brian Martin
December 15, 2022
I couldn't believe the convenience and ease to order Covisn color blind contacts online. I was able to order my contacts online at a time that was convenient for me and they were delivered directly to my home. Being a busy mom of two, every second counts and I'm so glad that I could save on time and money with this service. The contacts have been amazing in helping with my color blindness. I'm so grateful!
bobby carter
December 15, 2022
It's been about a month since I got my first pair of colorblind contacts, and I've just ordered my second pair. They're just incredible. I'm red-green colorblind, and it's really hard to tell apart some colors, even close ones. I had never seen a bright orange before, or a bright yellow. The yellow car was a little bit harder to identify (it has a slight tinge of green), but the orange was easy as could be. I was really happy with covisn contact lenses!
jason forrester
December 15, 2022
Covisn color blind contacts are exactly what I was looking for. The vision test is just a way to double check that the contacts are correct and that there's no mistake with your prescription. It does not affect anything. Once you get your contacts, you will see that it's as simple as putting in any other contact, and you will be surprised to see such vivid colorful world through them.
melvin bishop
December 14, 2022
These color blind corrective glasses are so cool.
jackie duncan
December 14, 2022
You won't find any better color blind glasses than these.
Danny Burge
December 13, 2022
I received my glasses quickly and they were exactly as described.
christina battle
December 13, 2022
I couldn't be any happier with the product and excellent service I received and will recommend this product to all my friends.
joseph dawson
December 12, 2022
They're affordable and they work!
juanes posito
December 11, 2022
I'm a sufferer of colour blindness, so I tried out both, and these glasses really helped me distinguish colours. Highly recommend!
lee zook
December 11, 2022
I was able to see the colors of the natural world for the first time in my life!
steven jones
December 11, 2022
I had no idea what they would be like, but they are amazing! They have given me a new outlook on the world!
roger gibes
December 11, 2022
What can I say, they work brilliantly. It's like seeing colour for the first time in 20 years.